HOLIDAY INN TEXARKANA ARKANSAS CONV CTR
Hotel next door to the Arkansas Convention Center
It is our pleasure to welcome you to Holiday Inn Texarkana Arkansas Convention Center! Guests will enjoy a hometown feeling of southern charm and hospitality when staying with us. We are conveniently located just off I-30 making our hotel the perfect choice to experience the area's best entertainment options. Corporate travelers find we're close to businesses like Cooper Tire & Rubber Company and Domtar Paper. Our hotel is directly connected to the Texarkana Arkansas Convention Center, making it easy to attend any of the center's events offered throughout the year. Within a short drive of our hotel, you'll find the Texarkana Regional Airport (TXK) and Christus St. Michael Health System.
Make yourself at home in our spacious rooms and suites with contemporary furnishings, mini-refrigerators, microwaves, flat screen TV's, and complimentary in-room wired and wireless high-speed internet. You'll find incredibly comfortable mattresses, pillows, and thoughtful amenities everywhere you look! For your convenience, we offer free high-speed wireless internet throughout our property, free parking for your vehicles, an indoor swimming pool, fitness center, 24-hour front desk, and daily housekeeping. For our corporate travelers, you'll find our well-equipped business center especially helpful while away from home. Enjoy FREE breakfast for up to 2 people with your reservation by mentioning the code BreakfastFor2 at check-in.
In addition to offering comfy rooms and suites in a prime location, the Holiday Inn is situated perfectly within minutes of local shopping venues, delightful dining options, amazing parks, and beautiful golf courses. Art and history enthusiasts will appreciate exploring the area's many museums, theatres, historical homes, and art galleries. Take a stroll down to our Historic Downtown where you'll find you're in the center of everything the area has to offer.
Holiday Inn Texarkana Arkansas Convention Center is an excellent lodging choice, offering affordable rates alongside personalized service and wonderful amenities. Come experience it all and let us be your relaxing home-away-from-home while staying in the Texarkana area. We look forward to welcoming you as our guest!
Comfortable Rooms & Suites
Our rooms and location are ideal for both corporate and leisure travelers alike. Guests will be greeted by modern furnishings, large flat screen televisions, and spacious bathrooms in their room or suite.
Check In: 3:00 PM | Check Out: 12:00PM
TWO QUEEN BEDS ROOM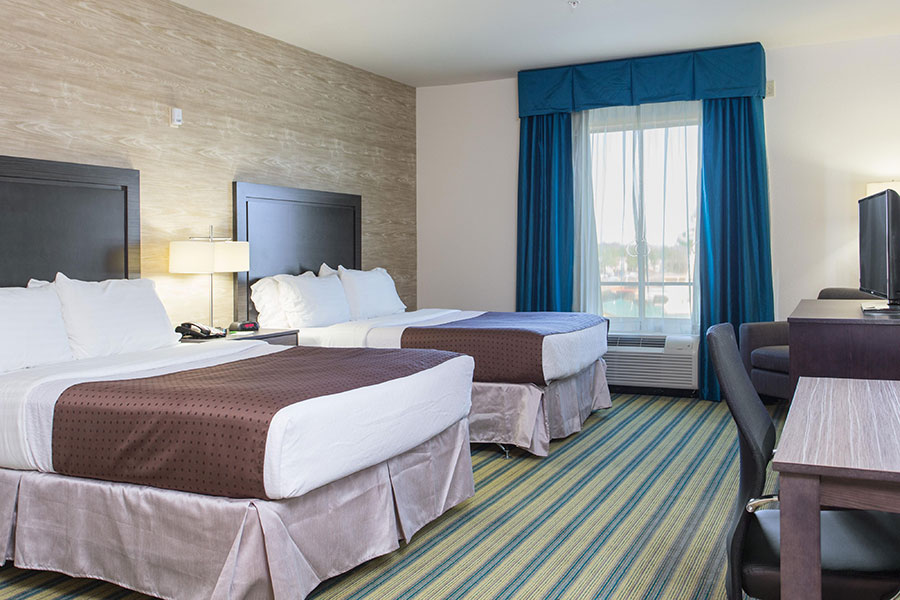 This generous room can provide up to four people with a comfortable stay. Enjoy free high-speed wired and wireless internet, pop some popcorn in the microwave, or enjoy watching your favorite show on the large flat screen TV with expanded cable channels.
KING SUITE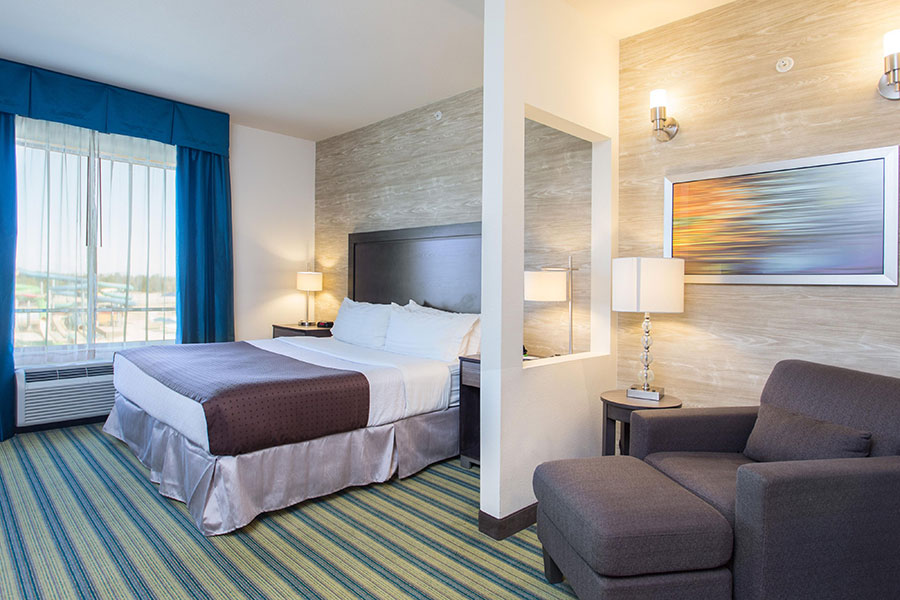 Sleep soundly in our King Suites with a separate living area, sofa sleeper, wet bar, two large flat screen TVs, microwave, refrigerator, work desk with an ergonomic chair, free wired & wireless high-speed internet access, coffee maker, and an easy chair with ottoman.